Manohar Gopalkrishna Prabhu Parrikar (born 13 December 1955) is an Indian politician from the Bharatiya Janata Party who has been Chief Minister of Goa since 14 March 2017. Previously he was Chief Minister from 2000 to 2005 and from 2012 to 2014.
Manohar Gopalkrishna Prabhu Parrikar

Date of Birth
Dec 13, 1955
Age
58 Yrs
Birth Place
Mapusa, North Goa
Religion
Hindu
Father
Utpal Parrikar
Mother
Smt. Radhabai Parrikar
Residence
Address: House No. 12/182 Khorlim-Mapusa, Goa – 403507
Telephone:
0832-2265656/ 6511211
Marriage
He is married to Medha Parrikar.
Teenage
Student
Schooling
He studied at Loyola High School.
Education
He completed his secondary education in Marathi and went on to graduate in metallurgical engineering from IIT Bombay in 1978.
Occupation
An Active Politician And the Chief Minister of Goa.
Start of politics
He was first elected to the Second Legislative Assembly of the State of Goa in 1994.
Political career as Chief Minister of State (In 1999 till 2012)

He was the leader of the opposition from June to November 1999.

He first became the Chief Minister of Goa on October 24, 2000 but could only last till Feb 27, 2002.

In June 2002: he was re-elected to the assembly and was elected Chief Minister again (on June 5, 2002).
On January 29, 2005: His government was reduced to a minority after 4 BJP MLAs resigned from the House. Parrikar claimed that he could prove his majority and he has proved that in February 2005, after continued disputes, the state was put under president's rule in March 2005.
In 2007: the Parrikar as a candidate of BJP, was defeated in the Goa state elections by the Indian National Congress led by Digambar Kamat.
His party became victorious once again after the BJP and won against INC in the Goa Goa Assembly Elections held in March 2012. At the time of elections he also restored his Chief Minister position.

Political Party
Bharatiya Janata Party
Constituency
Panaji
Preceded by
Digambar Kamat
Assumed office
03/09/2012
Portfolio
Minister of Defence
Role in National Politics
Acknowledging his pioneering work, which put Goa on path of development, he was conferred as "The Best Chief Minister". Widely respected even amongst his rivals, his personal integrity is beyond doubt, a rare attribute in politics. Known to be a man of action and principles, Mr. Parrikar is known as Mr. Clean in Goa.
As the Chief Minister of Goa (2012)
Manohar Parrikar is an Indian politician who has been Chief Minister of Goa since Mar 9, 2012 to Nov, 2014
Awards and recognitions

2001: He was awarded by IIT Bombay with the Distinguished Alumnus Award because he is the first IIT graduate to become the Chief Minister of any Indian state.
2012: CNN-IBN Indian of the Year in politics category.
0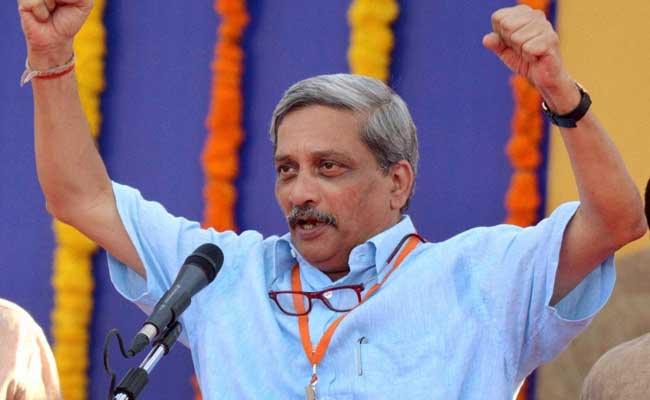 Oath Taking Ceremony
GOA ELECTION RESULTS 2017
ALLIANCE   LEADS    WINS    TOTAL
INC+                      2             18                20
BJP                        1                12               13
OTHERS             0                7                  7
AAP                      0                  0                0